Discover more from Build With Users
Insights on community building for software businesses. For Founders, Community Managers & DevRels. Build 'with' users, instead of 'for' them 🚀
How lemlist's community is playing a big part in their rapid growth – Issue 3
An interview with Guillaume Moubeche, co-founder of lemlist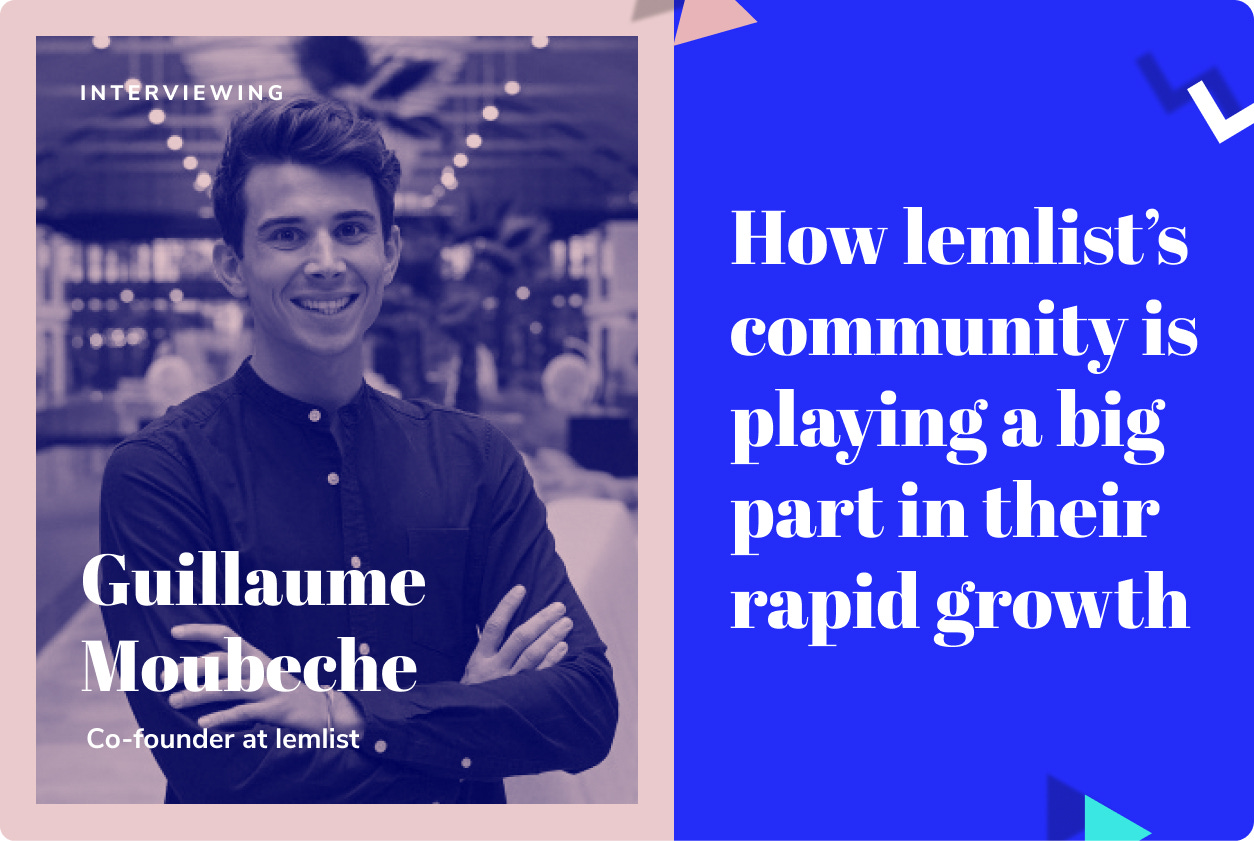 Welcome to our second interview on this series! 👋 Today, we're sharing Guillaume Moubeche's insights on building lemlist and The Sales Automation Family – their online community that drove a large part of their success.
It covers how they started with their community, some pros and cons of the platform they're using, how they qualify and welcome new community members, and a lot more! 🔥
Enjoy, and don't forget to hit the subscribe button (if you haven't yet) to follow along on the next issues! 👇
---
What is lemlist and how did you start?
Lemlist helps B2B businesses, sales teams, and agencies automate sending cold emails in a super personalized way. We launched the first version of lemlist early 2018 on Product Hunt, ending up as the number 1 product of the day. We're now two years down the road and managed to hit  $2M in Annual Recurring Revenue. We recently grew the team from 12 to 19 people.
I've said it before in some articles I wrote about our journey, but for us, building our community from the beginning and providing value to our users was a big win. When we started out, our community was called 'The Email Outreach Family', but a while ago we changed that to 'The Sales Automation Family' as we broadened our scope.
At what stage of your company did you start your online community and why?
We launched the first version of our product lemlist really early. Let's say we definitely weren't ready yet, but we got a couple of hundred people that were interested and signed up. A lot of them were disappointed, as our value proposition exceeded what we could deliver on initially. After quick iterations based on feedback, we launched again on App Sumo. Again: huge reach and interest-level. 
At that point, we decided it would be interesting to leverage that user base to launch a community dedicated to 'email outreach' called The Email Outreach Family. As I mentioned, we rebranded it to The Sales Automation Family, as it better fits our activities now.
For us, the community is the way to talk or observe current or potential clients as often as we can, at scale. It's like a big group of friends you can talk to.
For us, it's a way to talk or observe current or potential clients even more often at scale. It's like a big group of friends you can talk to. With the launches, we had so many people that paid attention, that we figured it would be a great way to capture these people and stay in touch, even besides our immature product. Just by providing them value.
What platform do you use to run your online community? What are the pros and cons?
We ended up using a Facebook Group to run our community, basically because we figured this was the platform where people usually hang out with friends. We didn't put a lot of thought into it aside from that as far as the platform decision.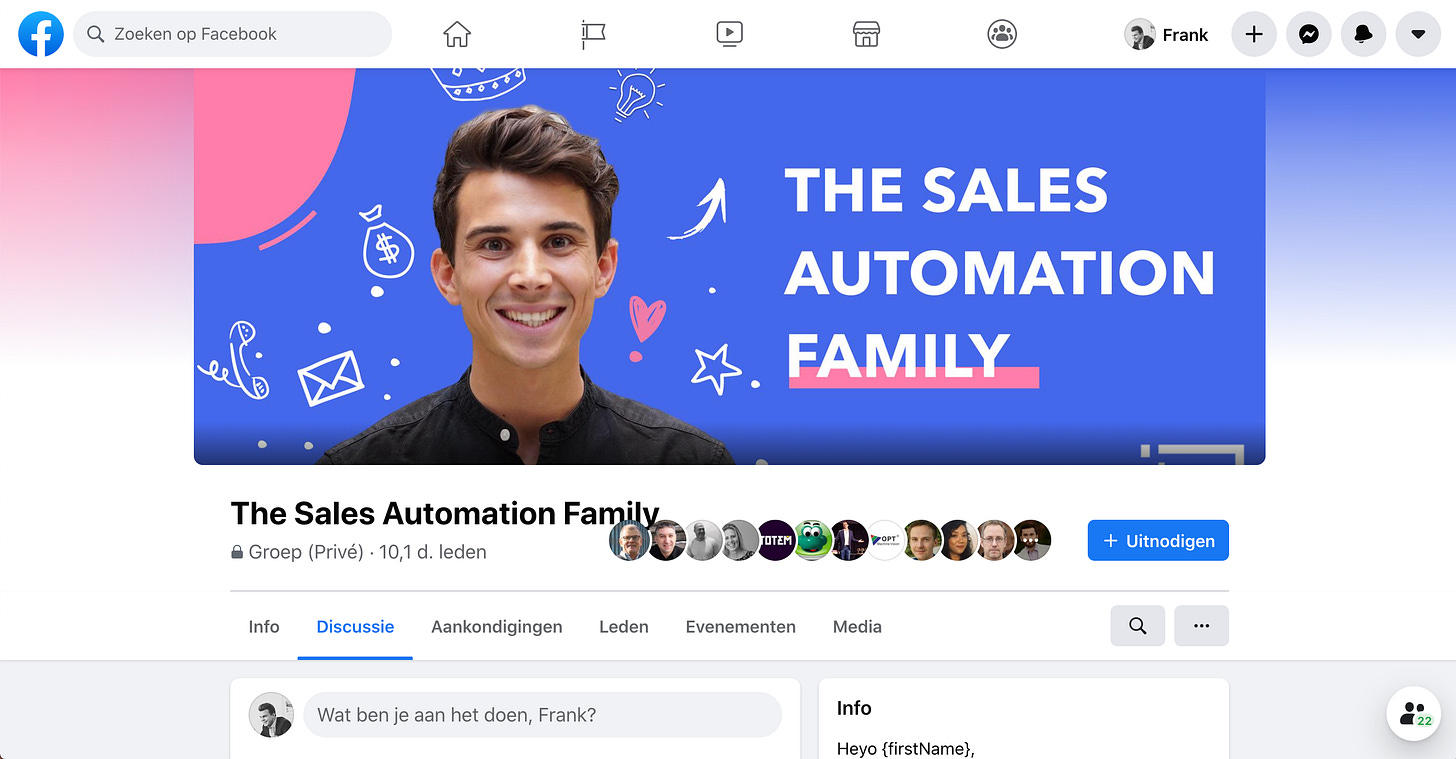 Looking at this now, the decision was fine. It works for us. The advantage of it is that Facebook really invested in 'groups' and provided a lot of cool features to grow a group. An example of that would be that you can easily mention newcomers in bulk and welcome them with a post or have a meaningful conversation in threads.
The drawback is the fact that I think Facebook is declining in popularity and not everyone uses Facebook as a go-to place anymore, where previously we felt it was really the place where anyone would hang out anyway. Depending on the industry and with the rise of other platforms, people started switching their focus elsewhere.
How do people find out about the community? How do you make sure it keeps growing?
Good question and as your questions imply, this is really about the organic part and the pro-active effort we do. In regards to how we actively try to grow it: we came up with a cold outreach system – as we're a cold outreach company, you know 😉. Here's the process in short:
1. We've thought through the different types of personas we typically serve with lemlist. So: who are our current clients, and who should be our new clients.

2. We used those traits to create search queries on LinkedIn Sales Navigator that feeds an email outreach campaign in lemlist. We did an unusual greeting in that email and added highly personalized content including personalized images with their name and logo. Here's a quick preview of the community invite we send out this way: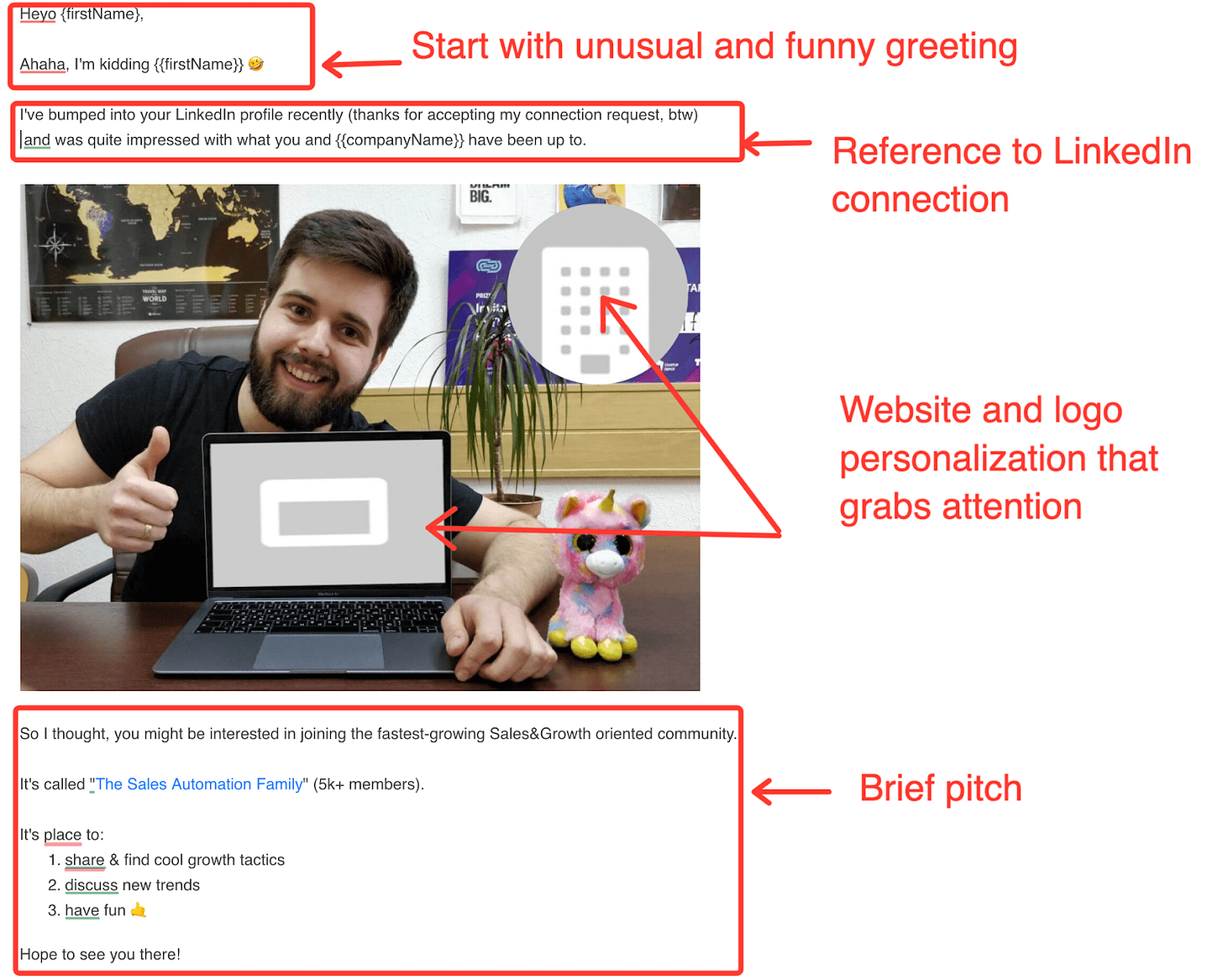 3. We do something similar using email databases LeadFuze and UpLead to generate lists of the right people that might be interested in joining. As we didn't have LinkedIn profiles through these sources, we went for a cold email outreach only. 
We used personalized video thumbnails that led to a personalized landing page with a video that invited them to our community. It worked well because we're super concise and clear in our messages and it's an unusual form of personalization.
Nowadays, everyone is familiar with personalized names and company names in email copy, but personalized video thumbnails and images… that's not so common. 
Besides these efforts, the community grows organically as well. We do two things that help drive that word of mouth and organic growth. 1. We provide great content 2. We work on people's engagement in the community from the moment they join.
The latter relates to our qualification process for the community and how we welcome the users that get accepted into it.
As qualification is really important to drive the organic growth of the community, how do you qualify and welcome new people?
To reach organic growth or some level of virality, people need to tell other people about The Sales Automation Family. That only happens with people that fit in and get enthusiastic about the value we bring. Meaning: great content. Therefore, we don't allow just anyone to join the Facebook Group.
We want people that are passionate about sales and growth marketing. Whether they're just starting out or already years in business doesn't really matter. Passion about the topic and "practicing the craft" are the core things for us. That's why we ask 3 questions before someone can join the Facebook Group:
Who are you?

What's your LinkedIn profile?

What's your email?
We do two things with this: 1. Qualify new people based on their LinkedIn profile based on the personas we defined (as mentioned earlier). 2. Send a welcome email.
The welcome email is quite important. Since we ask for an email address, we can share value straight away when someone joins. They don't even need to search group content as where to start and find value. This is what one of our welcome emails looks like: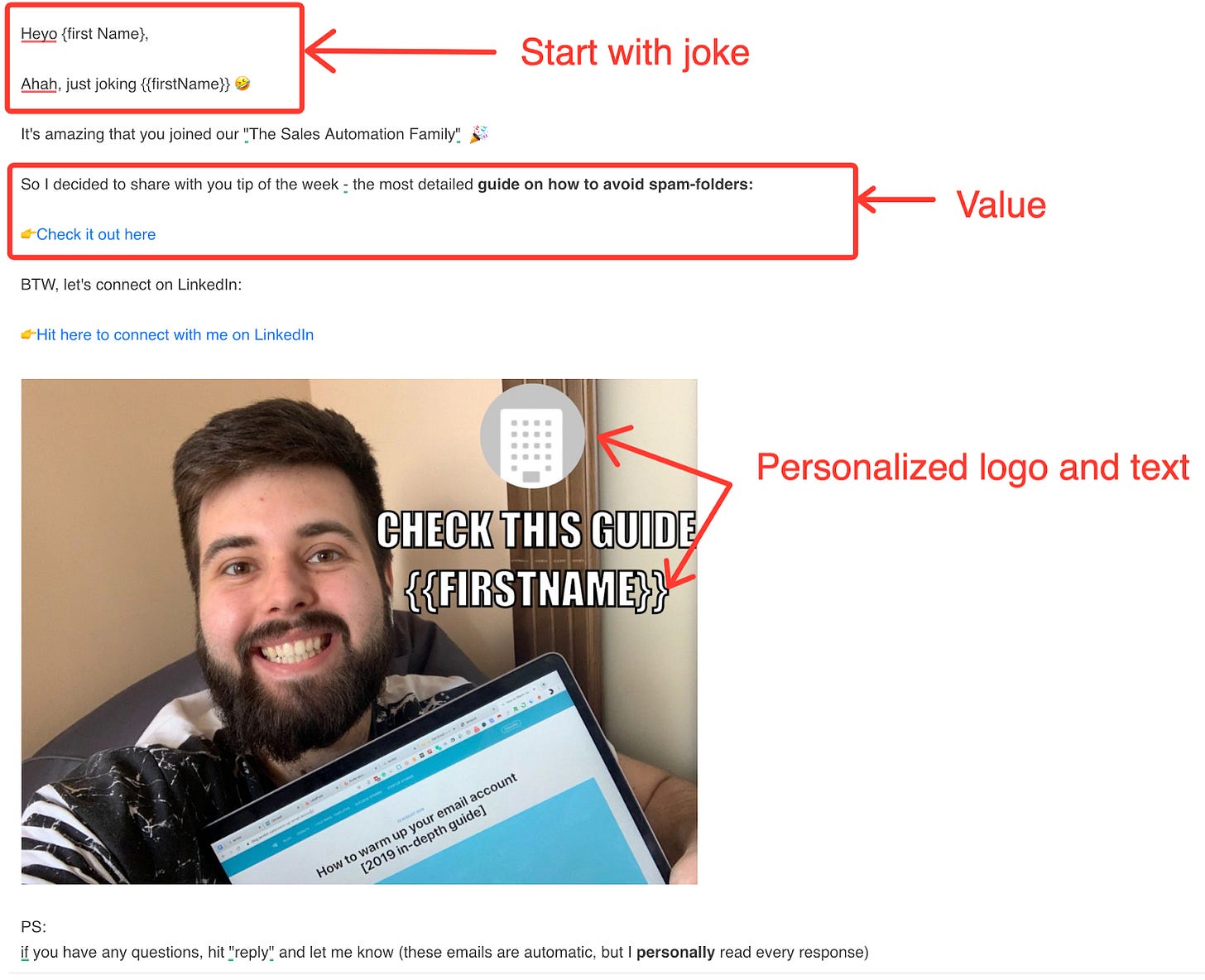 This step assures we provide some first bit of value to a new community member. 
Another thing we do to drive that initial engagement: we welcome every new member to the community by tagging them in a recurring welcome post we do every now and then. We just ask them a simple question to start engaging. Here's an example: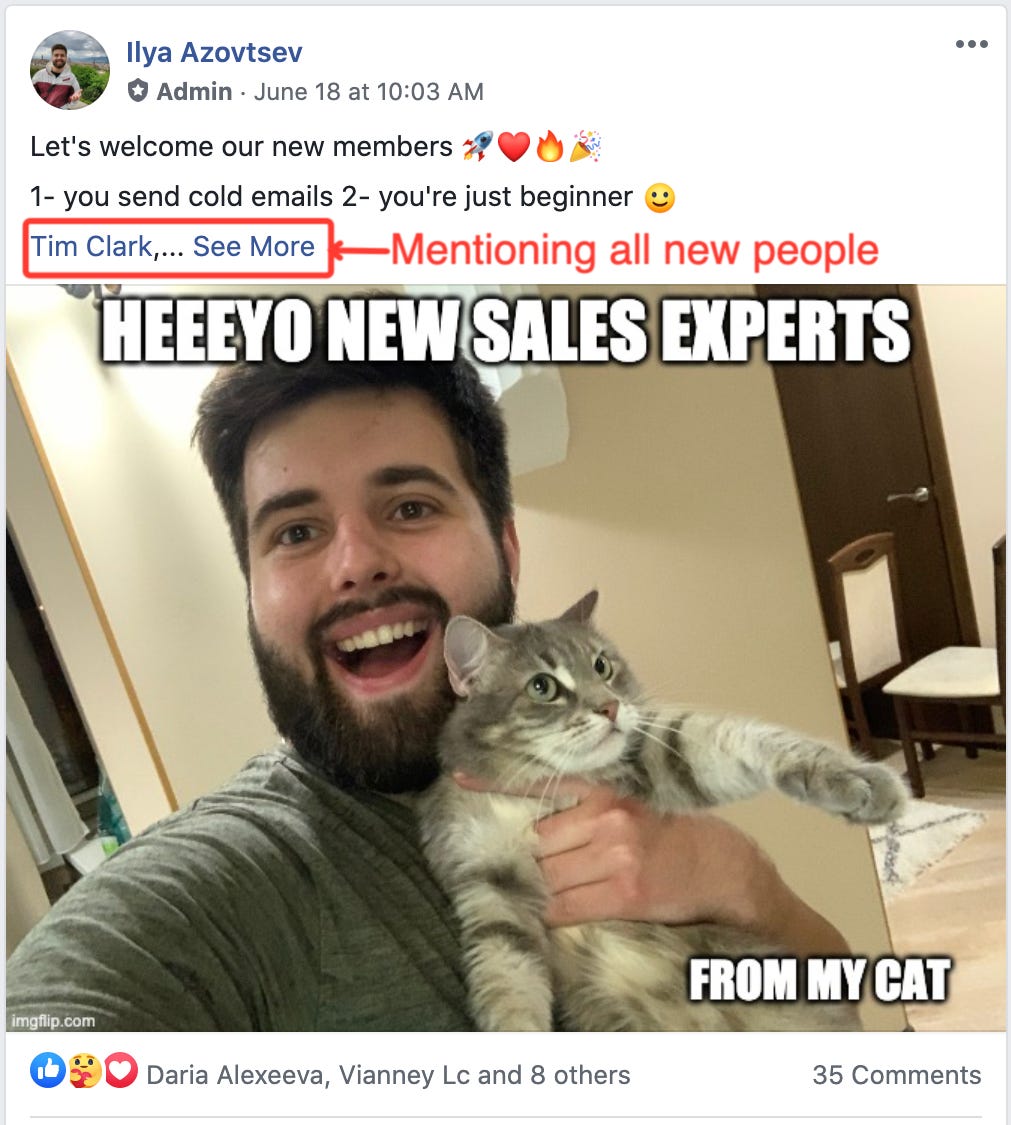 This works great, as people get initial value and feel a human connection. 
We do a ton of content marketing where we're able to mention our community. So this helps drive new community members to our Facebook Group. The big advantage is that the community itself also inspires us to prioritize and create new content that can then be shared to acquire new members again.

An example of that: a while ago we wanted to create a CRM guide as a new piece of content, but we didn't know what CRM to focus on first. Here's the answer. Straight from our community.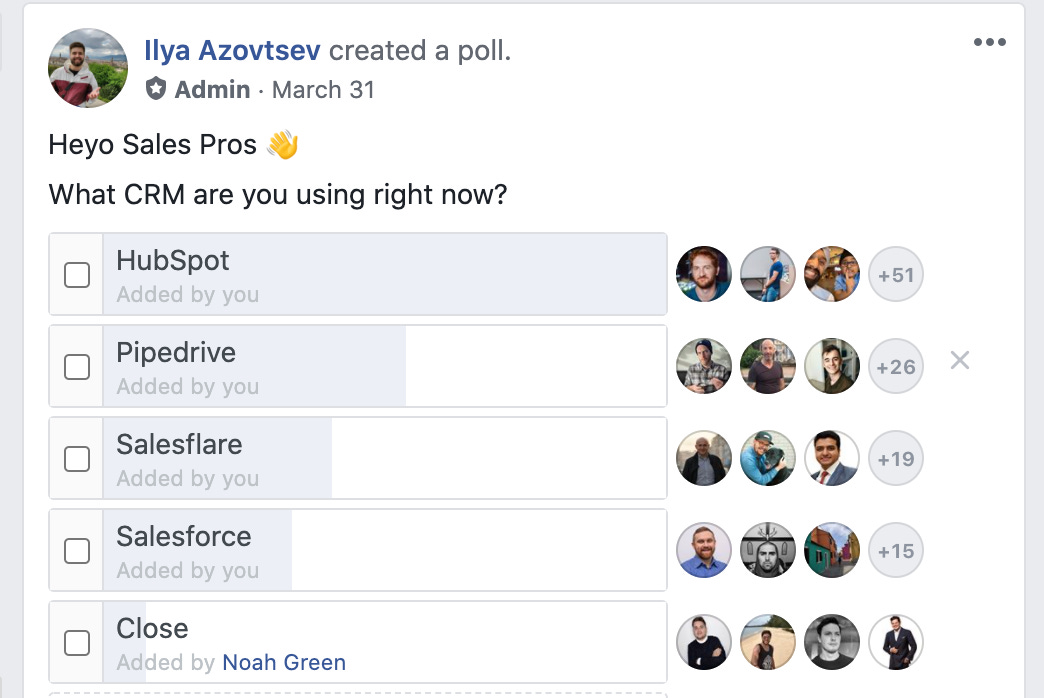 How do you keep your community lively and positive?
I think I already shed some light on how we kick off the relationship with community members. To keep our community lively we focus on bringing more unique content. There are a few things we do in that regard: we do 'how-to' articles on popular topics, ask questions in our community, and do exclusive interviews in webinar format. 
What's important there, is that both we as a team and our users share many screenshots and real use cases that outline both successful and unsuccessful scenarios. That way, newcomers understand that this is a community for doers, who are actually testing and implementing these tactics, rather than just talking about it and sharing other people's work.
Through the interviews we do in a webinar format, we also establish organic growth. By talking to authorities in the field – people like Aaron Ross, Rand Fishkin, and many more, and announcing those videos, we get current community members to share it. We also draw in new community members via the announcements we do ourselves on these upcoming videos.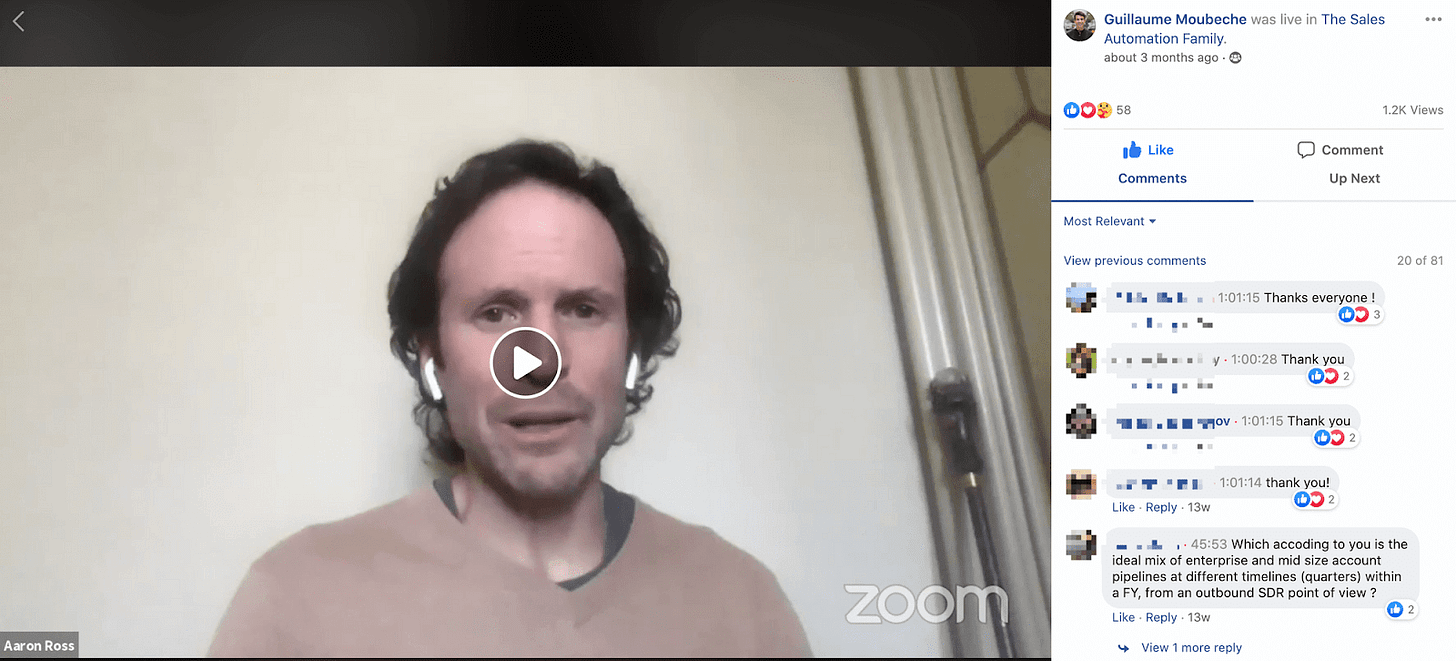 We're not just promoting webinars but also share info and snapshots of them everywhere. And since we're doing webinars exclusively for The Sales Automation Family members, we share the link to join the community.
And our guests do the same: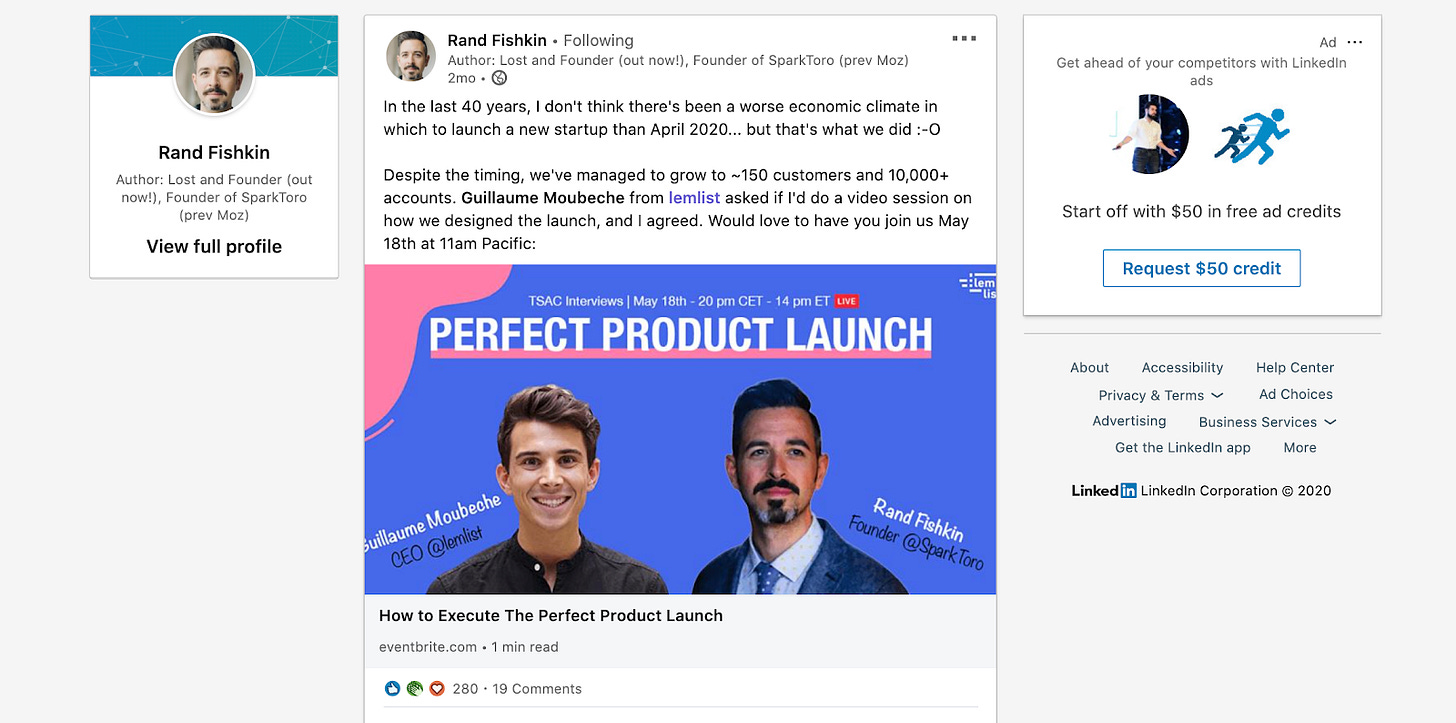 To keep things positive we also pay attention to people who are just joining the community to shamelessly promote stuff and don't follow the rules. The community is there to provide value to people, share authentic sales stories, and connect with people. Anything under the advertising umbrella gets you a ban.
How do you involve your community in improving your product?
The Sales Automation Family is an open window to the market. We can't make 1-on-1 calls with 10k people, but what we can do, is ask questions and listen to what they have to say. So of course, we pay a lot of attention to that.
If we have some ideas about new features, we ask the community first. If we see that someone is requesting features or has some cool ideas, we discuss it and implement it. Like we did with one of our most successful features, lemwarm. 

If we need to get feedback on something we're doing, we ask our community. 
One tip you would give to anyone that is building out an early community around a software company
A community should be the #1 thing for every SaaS business. It lets you talk to your clients and leads as real friends do. At the same time: it's hard to grow. Think about the strategies you will use to drive this growth. 
Your favorite tool that helps you better run your community, if any?
There are not too many tools that can be integrated with Facebook easily, but a few we use, as we more or less touched upon in the answers:
Lemlist: to acquire new members with cold emails 

Phantombuster: to acquire new members on LinkedIn 

Instant Data Scraper: to scrape newcomers and welcome them with an email
Do you have a favorite article or book as a community enthusiast?
A great book is Jab, Jab, Jab, Right Hook from Gary Vaynerchuk. The principles he talks about can be beautifully applied if you're building a community.
How can we find more about you or lemlist?
Check out lemlist and give it a try. You can find my profile, including my social handles right here. And feel free to check out The Sales Automation Family if you're passionate about sales and growth marketing 🚀
---
Thanks for reading till the end 🙏
Next week we plan to have another cool interview for you 💪, stay tuned, and subscribe if you didn't yet.
✌️ Cheers,