Discover more from Build With Users
Insights on community building for software businesses. For Founders, Community Managers & DevRels. Build 'with' users, instead of 'for' them 🚀
Building a superb user experience together with a community at Linear – Issue 5
An interview with Tuomas Artman, co-founder of Linear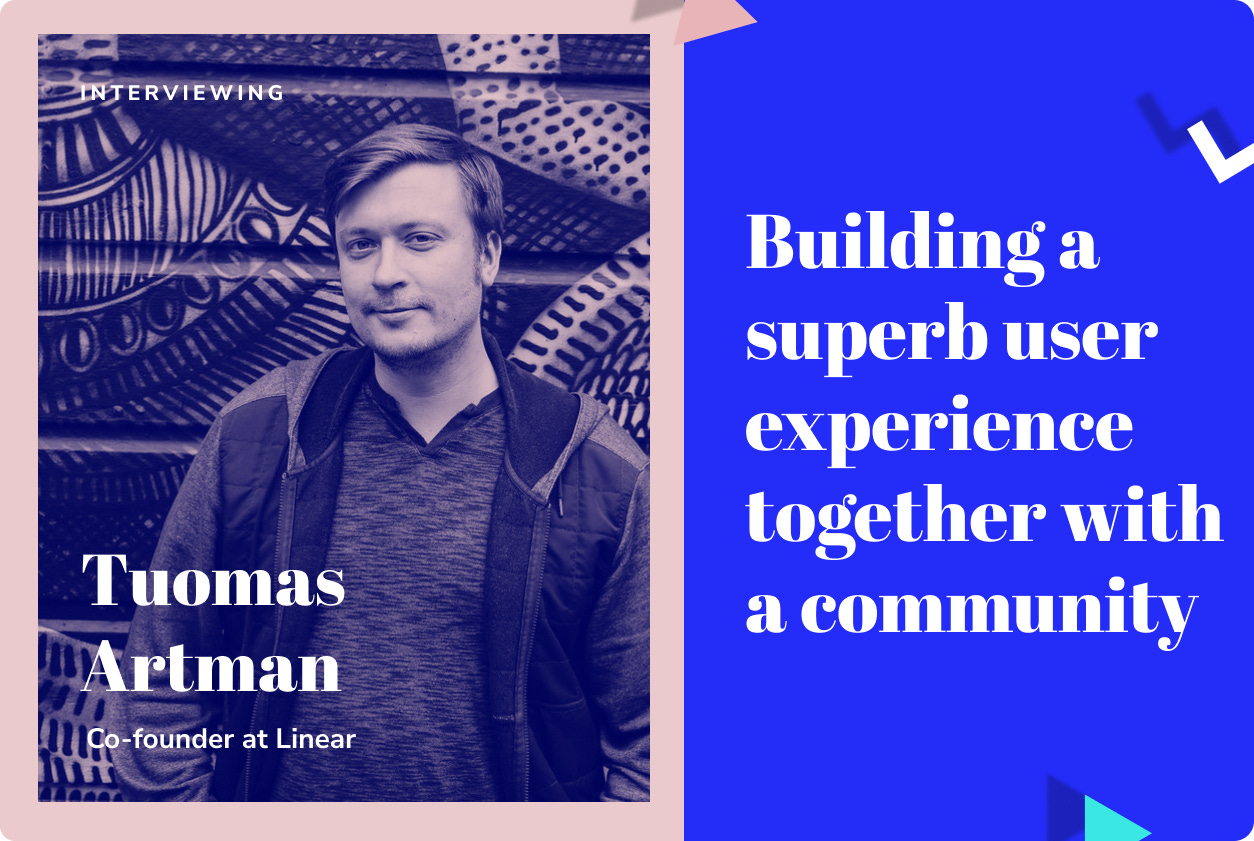 Welcome once again! 👋 Today we have a very special interview for you with Tuomas from one of the hottest startups in SaaS: Linear.
Tuomas explains how they've built a continuous feedback loop, how they prioritize and design new features, and he has an important tip for product builders that think about starting their own community. 💡
Enjoy, and don't forget to hit the subscribe button (if you haven't) to follow along on the next issues! 👇
---
About Linear and Tuomas
Linear is a popular new tool to streamline software project management and is built with remarkable attention to detail in terms of usability. The team consists of ex-employees of Uber, Airbnb, Slack, Coinbase, and Microsoft, and collaborates with their Slack community of 900+ members.
Tuomas is co-founder of Linear, an engineer and experienced entrepreneur with a strong passion for UX. He previously worked at Uber and helped scale mobile engineering from 15 to 400 engineers. Today, Tuomas explains why the team chooses to build community-first.
At what stage of the company did you start an online community and why?
We started our online community very early, right about when we launched a private alpha. We don't want to build our product in isolation but want to make sure that we're as close and aligned with our users as possible. Our belief is that everyone in our team should be exposed to feedback from our users. Therefore it was critical to have as many channels of communication as possible to ensure this.
Without a continuous feedback channel like the Slack community, we would probably build the wrong things.
Without a continuous feedback channel like the Slack community, we would probably build the wrong things. Most of the direction comes from our customers and the chats that we have with them. If we wouldn't have the community, we'd still go through a customer list and have daily calls with them to get an idea of what they need and what they're after. But it would certainly be slower, and you wouldn't be able to get a quick overview of what people want.
I think that the Slack community is a very fast-paced feedback mechanism for the entire team to get a grasp on what's going on, what's working, and what's not.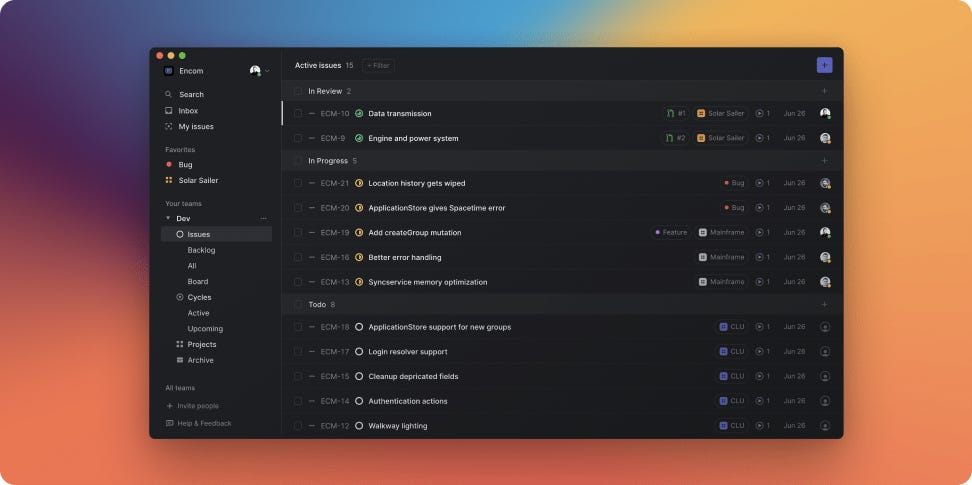 What platform do you use to run your online community?
We used to run our community on Telegram but quickly switched to Slack. Additionally, a lot of feedback comes from forms within the application and from emails from users, which we manage with Front. 
Slack is a great mechanism for fast-paced feedback and discussions. We also get bug reports and user questions in this way. Glancing over it gives everyone a good grasp on how our users are using Linear and what areas we still need to improve on.
The real-time and casual feel of Slack makes it great for the job. Using a forum for instance would probably increase the barrier to connect easily. We do get a lot of repeat questions through our channels, which takes time to answer, but that also tells us that we could do a better job at documenting our functionality.
How do people find out about the community?
The Slack community is open for all, but we don't really promote it anywhere, except for a mention in our welcome email. We do have a prominent entry point in the main menu inside our application, but we probably should do a bit more to guide users to the community.
How do you keep your community lively and positive?
Not too long ago, we started with channels where people can introduce themselves, share stories about how they started using Linear, or learn about how other companies are using Linear to drive their software development. Most other channels are about providing feedback and feature requests or asking questions about particular functionality. Our whole team is active in those channels and we try to respond to each discussion.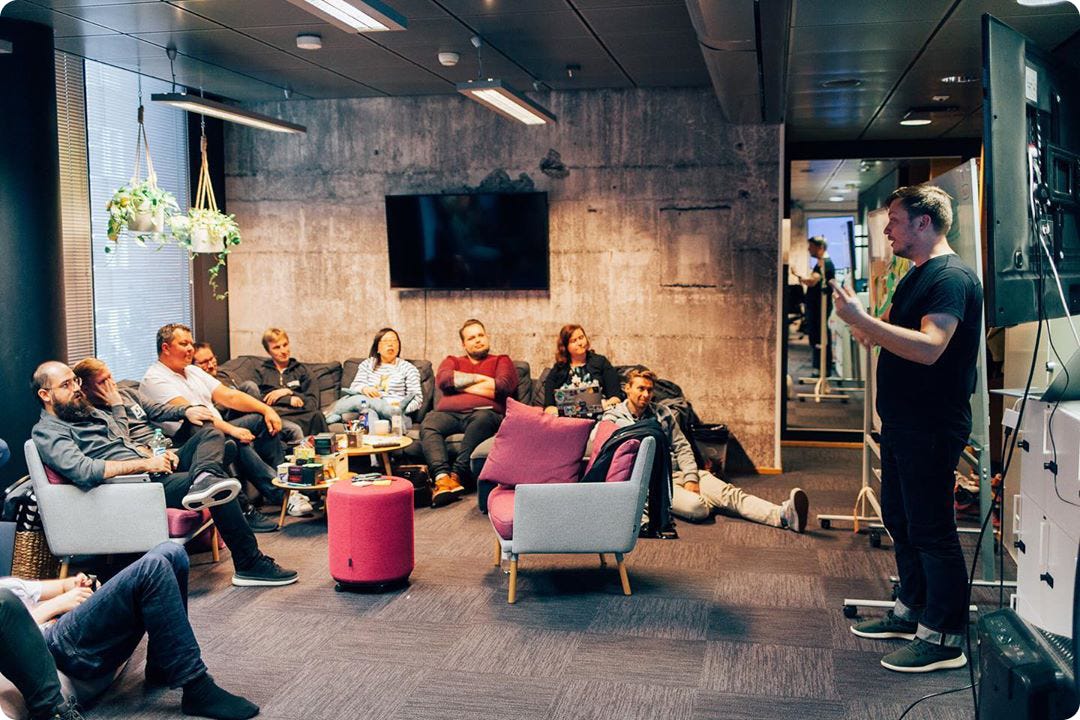 So far, the discussion has always remained positive and courteous. If discussions were ever to change to be rude, we would have to think about publishing community guidelines and enforcing them. I do believe that the positivity in the community is tightly coupled with how people experience Linear. If that were to change we would first have to look at our product and see where we've messed up the user experience.
Any question is literally our problem. If people have to ask how things work, then we haven't done a good job in the product to explain it.
The time it takes to reply to everything is really the only downside. Then again, you want to spend time with your customers so I don't see it as something annoying. Any question is literally our problem. If people have to ask how things work, then we haven't done a good job in the product to explain it.
How did engagement change when you grew from the first 50 members to a few hundred members?
Nothing much has changed really as we've grown. Except for the volume of feedback and questions. As mentioned before, it's our belief that everybody on the team should be exposed to feedback from our customers. So everybody was just active on the channels and responding to questions. But at some point, we realized that the team could no longer keep up with the amount of feedback and that this unstructured approach would not scale much further.
We did want to continue to provide awesome support, so we started building out a customer experience function at Linear. This ensures that all questions get answered quickly. Either directly by our customer experience lead or by someone else on the team who gets looped into the conversation. This helps us to continue learning from our users in a more efficient and controlled manner.
How do you involve your community in improving your product?
We use the feedback from our community as signals that help us prioritize what we're working on. Receiving a lot of feedback of a certain type will make us re-prioritize our work and look into that particular problem field.
Often we do get feedback on existing functionality that we feel is just a good improvement (or a straight-up bug report). This kind of feedback we try to address immediately, in order to constantly ship smaller improvements to our users.
We try to surprise and delight our users every now and then with a more elegant solution than they could have imagined.
For all the other feedback, it's important to understand the underlying problem. It is therefore necessary to dive deeper instead of literally building what our users ask. A particular feature request might be an indication of a deeper reaching problem or limitation of our application. Coming up with a solution to that underlying problem might have further-reaching effects than implementing individual asks. This way we try to surprise and delight our users every now and then with a more elegant solution than they could have imagined.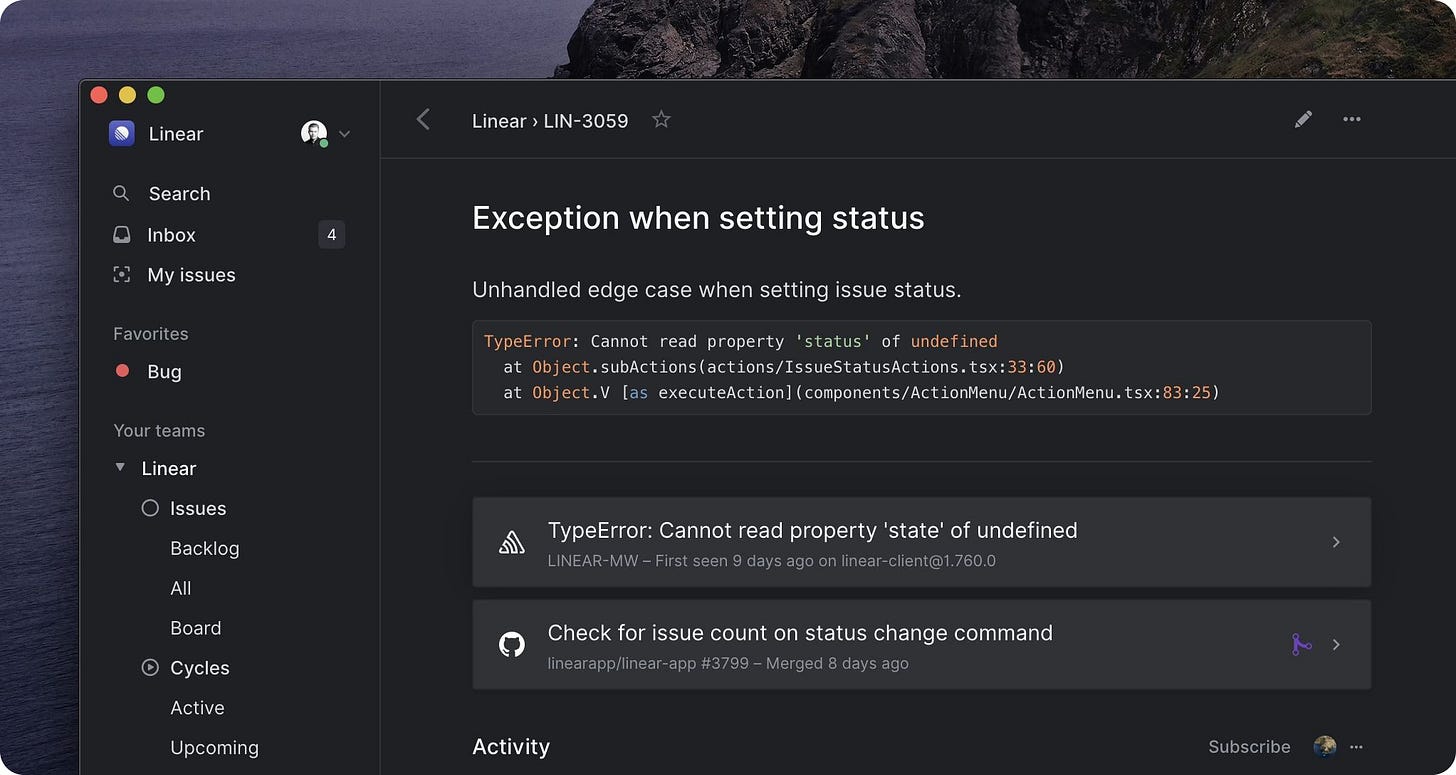 We usually do quarterly planning on these kinds of high-level directions for the application. The planning makes sure that we're addressing the needs of our customers with more complicated long-term projects as well.
For substantial additions, we select a few customers and invite them to a private Slack channel. We let them try it out and provide feedback before we ship it to the rest of our users. Sometimes we involve our customers very early on to provide feedback already in the design phase. This is all to make sure that we're building something that our users want.
One piece of advice you would give to anyone that is building out an early community around a software startup
You're building something for your users and not for yourself.
Invest the time as soon as possible. You will be in a place where you're rapidly iterating on the product and working very hard. At that point, spending a lot of time to build up and engaging with a community might feel like a distraction, but it's well worth it. After all, you're building something for your users and not yourself.
What are your plans for the future, as a company in general and with your community?
We're focused on building out the best application for managing software product development. We've started small and are continuously increasing the footprint of what Linear can do and what kind of companies it can support. Our biggest user segment consists of other startup-ups and our plan is to grow with them, supporting them with new functionality as they grow. This will require continuous communications and the building of our community. It remains to be seen when we'll outgrow our current community tools and what we'd switch to when that happens.
How can we find out more about you and Linear?
If you haven't done so yet, give us a try at https://linear.app. We'd love to hear from you in our Slack community! You can find me on Twitter.
---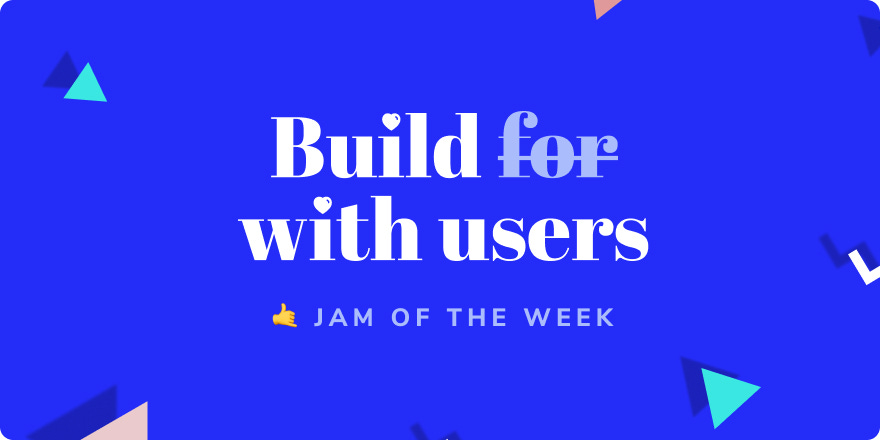 The Jam
Have you heard about our Build With Users Jam yet? This is a cozy, weekly online meetup where we chat about product & community building with anyone interested.
---
Thanks for reading this issue 🙏
Next week we plan to have another cool interview for you 💪, stay tuned, and subscribe if you didn't yet.
✌️ Cheers,